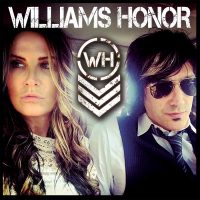 Straight from Asbury Park, NJ's legendary music scene, comes an unstoppable collision of likeminded influence, chemistry and a true love for country music. Singer and performer powerhouse Reagan Richards and producer/multi-instrumentalist Gordon Brown have come together to show the world their love for modern country by building on the years of tradition, harmonies and story songs the genre continues to pride itself on.
After spending years separately in Nashville and never running into each other, they both were writing, recording and touring for other projects and artists. They felt the need to live up to the legend of where they came from with their own version of country by the sea.
While both off the road, the two met while doing a benefit for Hurricane Sandy victims. Artists on the bill noticed their chemistry and felt they'd make a good team, so they decided to do what comes natural: write a few songs, perform live and see what kind of reaction they get. They took a few inspiring trips together back to Music City, where they wrote with such talented tunesmiths as Billy Burnette (Fleetwood Mac / Faith Hill / George Strait / Ray Charles) country star Cyndi Thomson, Paul Sidoti (Taylor Swift / Eric Carmen), and quite a few others.
After the summer of 2014 they came back to Jersey with a plan. They decided to create a banner based on tradition. Fueled by the memory of their fathers, who were both lost way too soon, WILLIAMS HONOR was born.
Excited to build on all their experience in the industry as artists and performers, they have released their debut single, penned by Richards & Brown, titled "Mama Please," a song dealing with the real life experience of abuse as seen through the eyes of a neighbor who desperately tries to do something about it.
One of the Williams Honor objectives is to write and select material that is a reflection of their own lives and communities around them. They are not scared of the boundaries that once limited the genre, rather they are excited to continue to blur them with respect for all the legends that made country music into America's music.
Reagan has worked with many major acts singing for artists like Les Paul, David Gray, Lisa Loeb, Michael Des Barres, Darlene Love and Jon Bon Jovi. She says, "Getting to work with such great artists has given me even more passion to do this. My inspirations are endless. As early as I can remember, this is all I've wanted to do. Singing, writing, performing and connecting with people is what I do best, cause God knows, I can't cook."
Gordon has toured the world as a guitarist and band leader and continues to write and produce, working for acts like Jessie James Decker (E!'s Eric & Jessie / Showdog Universal), Natalie Stovall & The Drive (Hitshop / Warner), Jackson Harris (77 East / Makers), Audrey Kate (ABC's Rising Star) and Audra McLaughlin (NBC's The Voice) among others.
After being the main songwriter and forming Highway Nine (RCA Nashville), Asbury Park's only country music act to ever get signed throughout the years, Gordon knew he heard a version of country music that could have deep roots on the Jersey Shore. "If any of Jersey's music legends came out today, they might be Keith Urban or Kip Moore. If John Mellencamp put out his first album now, he might be Kenny Chesney. If The Eagles or Fleetwood Mac came out right now, they would be Little Big Town."
Brown continues, "I have always been able to find my voice within a song by challenging myself to write for those that want to express their own story. I find great reward in that. When a song connects and gets sung back to you, there is no better feeling in the world. Reagan and I are lucky to come from a deep and rich Jersey Shore history where the neighborhood makes you believe in all the elements to make that happen. We both found all of those same elements shining bright in Nashville for the many years we've been able to work there."