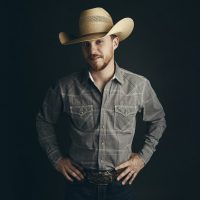 When Cody Johnson's Cowboy Like Me debuted in the Top 10 on the Billboard Country Albums chart in January 2014, jaws dropped in offices all over Nashville.
"I got a lot of 'Who is this kid?'" Johnson says with a laugh two years later. "I love that. That was a new horizon. And I'm gonna work to make sure people know exactly who I am."
Johnson does that from the start in Gotta Be Me, a follow-up project that's loaded with solid country instrumentation and melodies. In the first minute alone, he paints himself as a cowboy — raised on outlaw country — who drinks too much, fights too much and won't apologize for having an opinion. His smoky baritone and ultra-Southern enunciation gives him a voice as uniquely identifiable as Jason Aldean or Tim McGraw. And he uses it to convey a Texas-proud swagger, a real-man charm and an unwavering honesty about who he is, where he comes from and where he hopes to go.
"I'm a God-fearin', hard-workin', beer-drinkin', fightin', lovin' cowboy from Texas," he grins. "That's about it."  Johnson says.
Find out more at https://www.codyjohnsonmusic.com/
Hear his latest "Wild As You" here: