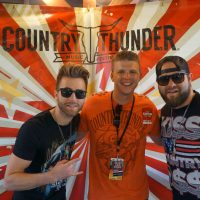 The Swon Brothers
Tonight's New at Night features the Swon Brothers.  You might remember them from NBC's "The Voice" but they've been keeping pretty busy since their time on the show.  They've had a pretty relentless touring schedule and somehow carved out some time to record some new music.  Here's some more info from the guys:
The Swon Brothers spent the better part of 2016 putting an indelible notch in their live performance belt. "The sibling duo played their first show on January 30th in Jacksonville, FL on Carrie Underwood's Storyteller Tour and ended their year in their hometown of Muskogee, OK to a SOLD-OUT house for a show to benefit their local Salvation Army post on December 16th.  But somehow, in between those arduous hours on the road, the brothers found time to record their most authentic record to date, and one they are certainly proud of.
The new EP, titled PRETTY COOL SCARS and produced by Brad Hill, will be revealed in March and the brothers have readied a brand new single from the forthcoming release called "Don't Call Me."
"This is our first time to work with Brad, who has produced records that have Grammy nominations this year, and for good reason.  He's a very talented guy.  He brought out sides of us that we didn't even know were there, both musically and vocally.  He actually brought this song to us also, he's got a great ear," says Zach.
The brothers describe "Don't Call Me" as a song about being in a bad situation but becoming stronger despite the circumstances.
"It's a song we can all relate to," says Colton. "It's about finally getting to a point where you get over the things you need to get over, and you can move on with your life.  I think it can represent people in a lot of different ways, and then it becomes much more than a song at that point."
"We always like to try out songs in our live show before we make the decision to record them.  We like to listen to our fans that way, and hands down, our fans gave us every indication that this was definitely a keeper. Me and my brother knew we had something golden when we just sat down and played it for the first time in the living room with just the two of us, and it just felt like it was written for us," says, Zach.
"Don't Call Me" is one of six songs that appear on PRETTY COOL SCARS and Zach and Colton are excited to share this new music with their fans.
Check out more from the bros HERE
Here's the new song: