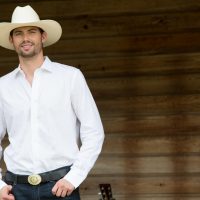 Eric grew up in Plainfield, IL. As a teen, he began writing music. His love for country music grew on him as a young boy being on the farm with his grandpa in Big Rock, Illinois.
During college, although Eric's heart was set on his music career, he pursued his goal of completing his education and studying abroad in England. Recently, Eric has accomplished his education goals by becoming an attorney in Illinois, and is finally pursuing his career as a Country Music Artist.
Eric's style of contemporary and traditional country music reflects his confident but humble persona, always embracing life to the fullest, living in the moment, and staying true to what matters most in his life, his faith, family, and friends. His songs are inspired by his life experiences from growing up in a small town outside Chicago, spending time with his family and friends, to his time living in Mobile, Alabama and Southwest Florida.