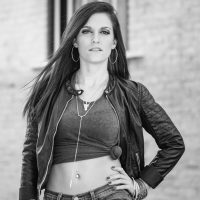 Kasey Tyndall's sweet southern charm is often rudely interrupted by an impressive collection of rock 'n' roll t-shirts. AC/DC, Ramones and Guns 'n Roses — crop tops preferably.
"You can help me Mr. Dave, I have so many," she says looking with wide, innocent eyes toward her manager when pressed to quantify her collection. "Stryper.  I just went on tour with them, that was awesome. I wear my Stryper shirt a lot. Some of my other favorite shirts are Bon Jovi, Loverboy, Lucinda Williams, Jason Isbell … "
Yes, she calls her manager Mr. Dave and her agent Mr. Jay – that's kind of her thing, recognizable by anyone raised in the south. But she says their name with respect and reverence instead of the sass and flare one would expect from a girl who prefers leather and denim over dresses and heels, just like she prefers a rowdy crowd dancing on a bar top over a seated one golf-clapping after each song.
Don't be totally fooled — Tyndall isn't a rocker hiding in a cowgirl town. Her Eastern North Carolina accent and penchant for aching love songs gives her away as a grounded country thoroughbred. Tyndall's debut single, "Everything is Texas" saw great success on the Wild Country Spotify playlist and the video hit Top 10 on CMT's 12 Pack Countdown.
Tyndall's second release is "Bar That's Open", a song she co-wrote with Ashley McBryde and Lainey Wilson.  "For as long as people have been breaking hearts or getting their hearts broken, there's a bar, that bar's regulars, and its staff to help.  We all have that bar in our life – no matter what we're going through, we're somehow family when we come together there." says Tyndall about her latest single.
Tyndall's journey to Nashville was accelerated in 2014 when she won a radio station contest to sing "We Were Us" with Keith Urban. Opportunities came quickly after that late summer performance, including signing with WME's Jay Williams for booking (Eric Church, Luke Bryan, Chris Stapleton, Dierks Bentley). The then college student was greener than new money when she moved to Music City — during her first co-write she had no idea she was working with Doug Johnson (Randy Travis, Lee Brice, Rascal Flatts) until he stepped away and the other writer in the room, Nick Autry, said, "Do you know who that is?"
"Anyone that big … I get super nervous," Tyndall says, the anxiety flushing her face even as she thinks about writing with some of the veterans and legends she's sat down with. She's had opportunity to be nervous a lot lately. Neil Mason from The Cadillac Three, Driver Williams from Eric Church's band and Tommy Cecil are a few of the seasoned writers she's worked with. A publishing deal with Sony ATV promises to bring more top-end talent to her door. After working with her, Cecil (Luke Bryan, Jake Owen, North Carolina's Parmalee) agreed to produce her album, out November 2017.
Between songs and offstage, Tyndall couldn't be more approachable. She's quiet, but increasingly confident about who she is, and who she ain't. "I wasn't the prettiest or most popular or anywhere remotely close to that," she says recalling high school. Her multiplying fan base appreciates this and her rock anthems have become their anthem.
"You get on social media and you see society saying 'That's what you should look like.' I instead wanna be a voice of 'Hey it's totally OK who you are, just like you are.'We need a little more love these days and a little less judgement."
As Tyndall explains,"I love to sing and perform and I'm thankful for anyone who wants to listen.  It's almost like my fans and I have this team.  It's kinda the 'Be who you are' team.  And I'm blessed to have the best team in the world."
Tyndall has done over 100 tour dates in 2017 with the likes of Parmalee, Kane Brown, Granger Smith, Casey Donahew, Wheeler Walker Jr. and The Cadillac Three… and there appears to be no slowing down.  In November 2017 she hits the road as direct support for Parmalee on their Hotdamalama Tour.