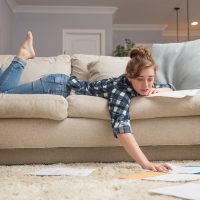 Linde LaChance was born in Southbridge, MA in 1995, but grew up in the heart of it all- Nashville, TN. At a young age, it was clear Linde always had a penchant for music. From watching her parents play professionally to school musicals and choir concerts, to dance team and figure skating, Linde found a love for songwriting and performing.
"I've always loved writing. I love to read, so writing was just something I naturally wanted to try. I've kept journals since I was in kindergarten, but it wasn't until high school that I picked up an old guitar and just started writing."
Songwriting was held on the back-burner as Linde continued to train and compete as a figure skater in the pairs discipline. She started skating when she was three years old and has continued ever since. She and her pair partner have been skating with each other for ten years and are nationally ranked at the Junior level. They are now a Senior level team, the highest level, which makes them Gold Rated and eligible to compete for a spot in the next Olympic Games.
Currently, Linde goes to school full-time at Belmont University, works as an Ice-Girl for the Nashville Predator's Energy Team, and continues to skate with her partner to keep in shape and de-stress. Her main passion, though, is with her music and writing. You can find her performing around town with local bands and singing in writer's rounds.
"One of the greatest gifts skating has given me is the tenacity to pursue something that knocks you off your feet time and time again. Music is definitely one of those paths that will kick you when you're down," she jokes, "but I love writing music that people stop and say- 'yes, that's totally me'. Music brings us together in ways that defy lines of religion, social, and political preferences and I believe that's incredibly important. THAT is why I love to write and sing."
Linde has written over 15 new songs for her debut album, which is scheduled to release this fall of 2016. Working with some of Nashville's best musicians and Grammy winning Producer Milan Bogdan, her album has roots in country, with touches in pop and folk.
"Milan was a dear friend of my family. My album was the last project he worked on before his untimely passing. I dedicate this album to him and will always remember him as the man who thought every day was 'Fantastic!' "