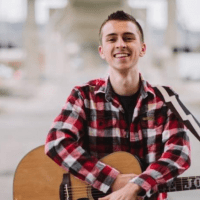 "He's a maniac on the guitar. The live looping aspect brings the production value to scale with a full band performance. It's unlike anything you'll see with a one man show in country music today.
– Joe Wells Talent Buyer at Beer Can Alley Des Moines, Okoboji, & Omaha.
My name is Royce Johns and I am a singer/songwriter/entertainer from Polk City, Iowa. A mentor once told me, "your performance is totally subjective to what the audience feels, always keep in mind what you are giving them." Since then, these are the words in which I build my performance". I always give them the honesty of who I am, no fake smiles, no dancing around on stage, nothing un-genuine. For a lot of country music today, that honesty is missing.
In my second year of business I logged 190 shows for 2017. These shows ranged as far west as Las Vegas and east as Nashville, but most of which have been in Iowa.
When I was fifteen, I learned guitar by playing along to AC/DC, Van Halen, The Red Hot Chilli Peppers, The Who, Stevie Ray Vaughn, Jimi Hendrix, Led Zeppelin, Chuck Berry, and many of the well know influential rock acts from the 1950's to today. However, I was always a listener to country music. I found myself resinating more with the honesty of the stories told by Merle Haggard, Johnny Cash, Conway Twitty, George Straight, and other heavy country music influencers. When it comes to singing, I never imagined I could be a singer. That all changed when I saw Toby Keith live in Burlington Iowa in 2014. I was front row and caught his red solo cup that he threw out to the crowd. I got the music bug so bad, I knew I was going to be on that stage someday, I just had to figure out how. I never sang in front of anyone until I was nineteen. Only two short years later, I found myself performing more than I ever could have dreamed.
I started in a cover band trio, Lincoln Rockhouse, formed by me and two seasoned musicians. I played lead guitar and sang lead vocals. After getting my feet wet in the rock/blues side of things, it became evident that I wanted to start my solo brand and push myself to play as many shows as I could. On January 13, 2016 I played my first solo show, closing the night for Eric Paslay at Shotgun Betty's in West Des Moines. From then on, it has been a blur of madness trying to keep up with the work the state of Iowa has provided for me.
As a guitar player, I feel that using a looper for the show is what sets my performance apart from other solo acoustic acts. The looper provides a dynamic sound that would otherwise have to be created by multiple musicians. It grabs people's attention. It gets them dancing. It keeps them interested and entertained. There are endless possibilities with a looper and a musician who wants to work their ass off. I do not cover any of Ed Sheeran's work, but the guy sold out Wells Fargo arena with just himself, a guitar, and a looper on stage.
That's my dream.