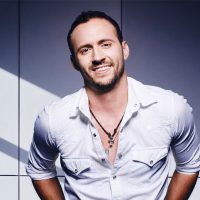 Punchy horn section stabs … a popping bass beat … James Brown guitar jangles … a slamming backbeat …
It's all there on the opening track from Drew Baldridge's Dirt On Us — and yes, it is country music, as country as it comes.
From the soul-band sizzle of "Train" to the reverent rendition of the old hymn "It Is Well," Baldridge's debut album comes straight from his heart to yours. It also targets your feet on uptempo tracks such as "Everyday Light," "Curious Girl" and "Dance With Ya," the single that rocketed him into the spotlight. It turns down the lights and steams up the windows with "Love On Your Body," "Burnt Toast" and "Rebound," with a guest vocal by Emily Weisband that uses just one note to cast its seductive spell. And it evokes simpler times through vivid lyrical imagery on "Tractors Don't Roll," "Town That Time Forgot" and the title cut.
What makes it all country? Simple: Ever since he heard his first Alabama track at age 5 back in Patoka, Illinois, this rangy young man's roots have drawn from the sound and feeling of authentic, old-school country. So has his life, from working on his family farm to bonfire parties with friends on Saturday night and savoring family dinners after church every Sunday.
But there's more than roots in this picture. Look skyward and you'll see where Baldridge reached as well toward Michael Jackson, Earth, Wind & Fire, raw backwoods blues and any other music that captured the trials and joys of real life.
All of that feeds into Dirt On Us, the product not just of his influences and upbringing but also of a long scuffle to claim his place in country music.
"I moved to Nashville at 19," he says. "It's taken me all five of the years since then to make this album. I didn't just go in and cut everything. It was two or three years of writing, recording the best of what I wrote, taking the best of that, going back in and doing it all over again. I wanted to take the time I needed to experiment and see where it all led me. I wanted to create music that was different from your everyday country music."
Mission accomplished.
And that's just the beginning. First and foremost, Baldridge is a performer. His love for dancing is infectious — you'll hardly find anyone sitting down once he wraps up his shows with the irresistible "Dance With Ya." Priority Number One was that this energy would be at the core of Dirt On Us. At the same time, Priority Number One Point Five was that Baldridge use the full-length format to show that's only one side of who he is.
"My fans are at the center of my story," he insists. "They want to get to know me better. So I wanted to make sure that every song on the album has its own life. Each one will have its own video. We want to give each song a chance for people do enjoy them. We're not just pushing one song. Together, they tell the listener about who I am — and the only way to do that is through an album."
This made every step toward Dirt On Us crucial. The first one involved signing with Cold River Records. He was already a hot property, with "Dance With Ya" on several Sirius/XM channels as an independent single. It was a good match. In fact, the label sent Baldridge out on a national radio tour a week before their contract was signed. So there was wind at his back even before he began writing for the album.
Fortunately, he had already stockpiled a good amount of material. But since his goal was to create a complete self-portrait, he set to work as soon as he could, with an ambitious approach to meet this challenge.
"My producer Josh Leo, Tim Nichols and I started by going down for Florida to write for three days," he recalls. "We put the songs we had up on a dry-erase board and asked ourselves, 'What gaps do we need to fill?' I had to do that six or seven times in the middle of my radio tour to write the other four, because let's face it, not every song you write is great!"
Through this meticulous method, Baldridge came up with 13 killer songs, all but two of them bearing his name as a co-writer. He was able to pull this off during a six-month, 48-state radio trek by choosing his collaborators carefully. "Each one of them has believed in me from Day One," he says. "Most of them have been writing for a long time. I didn't even realize until after the album was done that Tim has six songs on the album. I texted him, 'Man, this is a Tim Nichols album!'"
Baldridge laughs, but the truth is Dirt On Us is exactly what he and his team had wanted it to be — a picture of a unique, up-and-coming artist, comprised of outstanding songs that flow together with remarkable unity. "Every song is its own entity, so we had to let them speak to us as we wrote," he says. "But at the end of the day, they spoke together coherently. That's what makes for a great album. That's what I hoped we would accomplish."
He pauses for a second, then wraps it all up with characteristic candor. "I know I'm not the most talented guy in Nashville, but I also know that nobody can outwork me. I've worked hard my whole life. I moved here five years ago but I've been playing in bars for seven years. I've had my band for more than three years. We've done over a hundred thousand miles on the road. We've got a lot of dirt on us. That's one of the reasons I call this album Dirt On Us. Maybe people don't know that, but I know that."
Soon enough, people will know. This music speaks for itself; all you have to do is listen and you'll know. (from drewbaldridge.com)