Congratulations to the 2018 Hunting Selfie Winner:

Adam Kuntzelman!
WJVL

wants you to share your hunting success with the world!
 When you get the thirty pointer, take a hunting selfie and upload it below!  You'll be automatically entered to win a Spypoint Game Camera!
(

PLEASE NOTE:

This is not the Boucher Big Buck Contest. For details on the Boucher Big Buck Contest, click HERE.)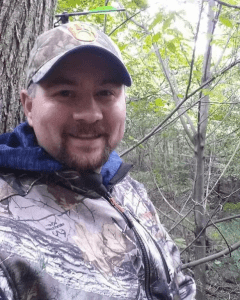 Contest Rules
1)       This is an internet 'email photo contest'.   All entries must be received using the official online form at www.wjvl.com . Photos must be in .jpg format and no larger than 1MB in file size.  It is acceptable to scan printed photos into the accepted format for submission.  Limit of one entry per person and/or email address in each of the bow and gun categories.
2)       The Hunting Selfie Contest is a different event than the Big Buck Contest for Bow and Gun as promoted by the Boucher Automotive Group. However, you may use a photo of the same hunting event to enter the WJVL Selfie Contest.   All questions regarding the Boucher contest should be directed to Boucher Automotive Group.  WCLO/WJVL and Bliss Communications are not responsible for any aspect of the Gordie Boucher contest, entry process, winner determination or delivery of prizes.
3)       To enter the WJVL Hunting Selfie Contest, take a "selfie" photo of yourself and your deer (note that submitted photos must include both a human subject and deer to be eligible) and upload it on the official entry page on the WJVL website. WJVL reserves the right to reject any photo entry that is considered in poor taste, vulgar, lewd or otherwise deemed inappropriate for display on the station website.
4)       Photos must be taken during the 2018 hunting season and must be the property of the entrant.
5)       Photos will become the property of WJVL radio.   By entering you give WJVL the unrestricted authorization to use your name, photo, voice recording, entry materials or likeness in promotional materials without further compensation.
6)       One grand prizewinner will be selected at random from all entries received through 11:59 a.m. on November 26, 2018.   The winner will be announced on Monday, November 26 at 5:50 p.m. and notified through one of the contact methods on their official entry.
7)       The Hunting Selfie Grand Prize is a Spypoint Game Camera valued at $200.
8)       The prize must be accepted as presented; no substitutions are allowed and must be picked up at the WJVL Studios at 1 S. Parker Drive, Janesville, WI within 30 days or the prize will be forfeited.
9)       Entrants should be aware of the potential tax consequences of winning any prize.  Awards of prizes valued at $600 or more will be reported to the IRS.
10)   WJVL reserve the right to disqualify any entry not conforming to the rules of the promotion at any time. WJVL and its contest and promotional partners assume no responsibility for entry fraud committed by any entrant.  In the event it is determined that an ineligible entrant wins a prize, WJVL reserve all rights to the ownership and return of the prize and all costs associated with remedying any prize award to an ineligible entry or entrant.
11)   Employees and immediate family members of Bliss Communications and participating sponsors are not eligible to participate.   The term "immediate family" includes spouses, grandparents, parents, siblings, children and grandchildren of the contestant.
12)   The decisions of WJVL station management as to the interpretation of these rules are final.  By participating, contestants agree to be bound by the decisions of WJVL station management in any disputes arising from the participation in or execution of the contest.
13)   Failure to comply with any published contest rules is grounds for immediate disqualification from the contest.
14)   Bliss Communications Inc., and all its subsidiary operations including WCLO and WJVL are not responsible for any liabilities arising directly or indirectly from the award or use of the prize.
15)   WCLO/WJVL and contest sponsors and partners are not responsible for issues arising with the online entry system.  This includes, but is not limited to, connectivity issues, time stamp issues, bandwidth restrictions, email account restrictions of any kind, formatting issues or an entrant's possession or access to the hardware and/or software required to conform to the online entry requirements.
16)   No purchase necessary.  Void where prohibited.
17)   Contest begins October 3, 2018.   Contest Ends November 26, 2018.