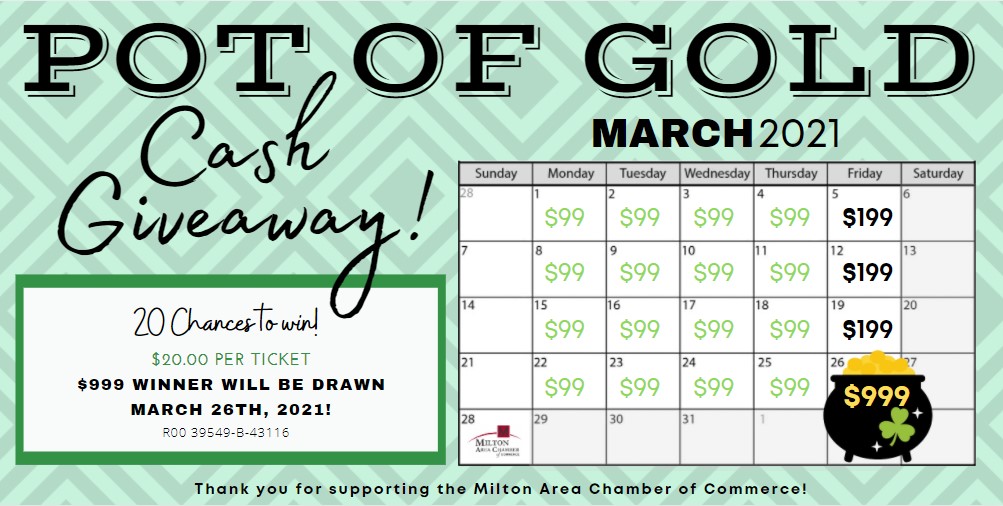 The Milton Area Chamber of Commerce has YOUR chance to win CASH this spring! 
Tickets are $20 and are available at Cowley's Piggly Wiggly in Milton, Shumway Appliance in Milton, the MACC office, or online at visitmilton.com.
Rules governing the MACC "Pot of Gold" Raffle.
1)      Raffle ticket sales begin January 25, 2021 and end at 5pm on February 28, 2021.
2)      There is no limit to the number of tickets that can be purchased.
3)      Daily prize drawings will commence on March 1, 2021.  One winning ticket will be drawn at random from all tickets purchased each weekday through March 26, 2021.   Winners will be announced on local media (99.9FM, WJVL) and will be contacted by phone or US Mail.
4)      Following each drawing, the winning ticket holder's information will be recorded and the ticket will be returned to the collection of all tickets purchased.   There is no limit to the number of times a single person can win during the giveaway period of March 1, 2021 to March 26, 2021.
5)      Prizes will be awarded on the following basis:
1 Grand Prize of $999 drawn on Friday, March 26, 2021.
3 Major Prizes of $199 each, drawn on Fridays of March 5, March 12, March 19, 2021.
16 Daily Prizes of $99 each to be drawn one each on the remaining weekdays from March 1 through March 25, 2021 (excluding the Fridays previously enumerated).
6)      All laws and regulations regarding Wisconsin State Raffle licenses apple.
7)      Raffle conducted by the Milton Area Chamber of Commerce,  Raffle License #R00 39549-B-43116.