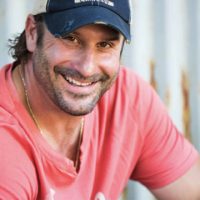 Dave McElroy vividly remembers how the gravelly baritone of Louis Armstrong
ignited his passion for music. Louis Armstrong is not your typical country
music inspiration. But the boundaries of genre never concerned Dave. He is
not your typical artist.
Dave draws inspiration from everything and everyone. But his appreciation for
variety does not change the fact that Dave is country to his core. Starting at the
age of ten, he rose at dawn to work with his father selling and repairing farming
equipment. During those days, the 8-track deck in his dad's truck introduced
him to the honest storytelling of Kenny Rogers, the spiritual emotion of Dolly
Parton, and the haunting sadness of Hank Williams. Dave discovered that a
great song could draw you in, stir every emotion, and leave you almost
breathless.
Those 8-track lessons inspired Dave's pilgrimage from his home in Minnesota,
where he was an outstanding athlete for the Golden Gophers,
to Nashville, country music capitol of the world, to pay homage to the legends
that captivated him as a child.
Dave recorded his debut single "Tangled Up" in the internationally
renowned Blackbird Studio in early 2016. Dave teamed up with Ronnie "Lil' Ronnie"
Jackson, a member of the writing and production team responsible for countless
certified platinum hits including "I Love You This Big," by Scotty McCreery.
Dave then enlisted the help of a number of phenomenal musicians, including Seth
Rausch, Keith Urban's drummer, and Brent Radar, as band director, to bring the
song to life. "Tangled Up" immediately drew the rave reviews of critics and fans alike,
and created such a huge buzz with radio and music industry insiders that Dave was named
"Breakout Artist of the Year" at the CMA Festival in June of 2016, where he also performed.
.
So much so than another single, "Without You" was recorded at the same studio with
the same musicians and production team. "Without You" quickly broke to Top 50 Music
Row Chart. A whirlwind of performance offers allowed Dave opened up sold out shows for
Old Dominion, Keith Urban, Little Big Town, Cam, Joe Nichols and Dillon Scott. Dave and his band
performed extensively at festivals across the USA throughout 2017 until it was time to record
his third single, "Nowhere With You." "Nowhere With You" be released
world-wide at the Super Bowl in Dave's hometown of Minneapolis February 4, 2018.