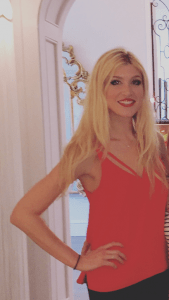 ON AIR: Weekdays 5:30-10A
MINUTEMAN PRESS IN-BOX (Email Ashley) 
Hometown: Born and raised in Janesville, WI
How did you get started in radio? First got started at UW-Madison doing a sports show (go Badgers), then after college I moved to Chicago where I got my first radio job. I moved back to Madison, WI where I hosted a couple morning shows. 
Hobbies:  I LOVE to travel and try to do it as much as I can.  I'm also big into woodworking and interior design. 
Favorite Country Artist: Brooks + Dunn, Thomas Rhett, Eric Church, Gary Allan, and Miranda Lambert! 
What would you be doing if you weren't in radio? I started another business called "Barnwood Heart"  and do that whenever I can.  It is my creative outlet…so that's what I would be doing if not in radio. 
Favorite Quote: If Traveling was free, you'd never see me again. 🙂