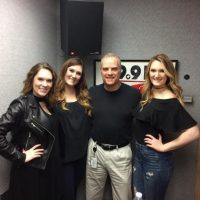 West Virginia based singing trio The Joseph Sisters will be releasing their new  single "Good Life" to country radio on March 20th, 2017.  This is the 2nd release for the group on independent label Blues Alley Records with radio team Duncan Promotions behind the promo
Blending classic country sounds with a modern appeal and style, the Joseph Sisters plan to open the next chapter of country music. There was a time in country music when family bands dominated the airwaves and the girls next door were the best singing group in the county. Moving ahead to today, The Joseph Sisters plan to bring the family band back to the limelight.
"Good Life" talks about just wanting the simple things in life, a good job, house, car, and being with your loved ones. Recorded with veteran engineer Steve Marcantonio, "Good Life" brings an interchanging lead vocal and stacked harmonies that only sisters can do. The Joseph Sisters are moving country back to feel good times and love, and away from the saturation of bro-country and the party.
The trio has also been recently selected to be part of CMA FEST. They will appear at Fan Fair X as part of the Emerging Artist Showcase.