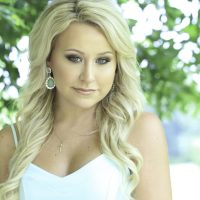 "I love to be happy and spunky. I also love being a very positive girlie-girl, but I still have a bit of sarcasm in me!
I'm a true believer in finding the silver lining in every single thing.
Julia Capogrossi is a country music singer and songwriter in Nashville, Tennessee. On stage her passion for music can easily be seen in her upbeat personality and warm smile. Performing runs in her family. Her maternal grandma was a ballet dancer in London, and her mom toured nationally as a tap dancer. Julia's first memory of getting passionate about music was when she got the Britney Spears "Oops!…I Did It Again" album for Christmas. She was only six years old and so excited she bawled her eyes out. Julia was born in New York City and raised in Stamford, CT. She started performing at a young age and, as she grew older, loved it more and more. Even dress rehearsals were exciting for her. The lighting cues and the staging gave her a great feeling. Other than belting Christina Aguilera and Britney Spears songs in her bedroom, from the time she was four years old Julia enjoyed dancing. She took ballet, tap, jazz, lyrical, pointe, and hip-hop, and became involved in basketball, softball, theatre, gymnastics, and cheerleading.
In 2011 and 2012 she won various Talent Shows and in 2013 was nominated for Best Actress in a Leading Role at the Connecticut High School Music Theater Awards. Julia enrolled at Indiana University in 2014. After spending just a few months there, she realized what mattered most was her lifelong dream of being a country/pop singer. She knew the best way to achieve her goal was to put 110% into it. Included in her decision was a move to Nashville after her freshman year of college. "My mom has been helping me achieve my music dreams since I was a little girl. She grew up as an entertainer, and I think she has always seen that same spark in me. She knows it's not the safest road to go down career-wise, but both she and my dad really appreciate and love how much drive I have to make it as a singer." With her parents blessing, she was on her way.
Julia writes songs based on her own experiences. She believes that music is the best way to communicate, and she enjoys every minute of writing and performing. "My favorite songs to write are fun songs that most girls can relate and dance to. I tend to have very honest, straightforward lyrics that are about career choices and relationships." Some of her song titles include "When I'm Wasted," "Round Two," "How Did We Get Here," "Til You Knocked On My Door," "Ready To Love Again, "Let Me In," "What I'm Thinking," "Damage Is Done," and "I Ain't Your Midnight." Her type of music closely resembles a few of Jessie James Decker's songs with strong sing-along choruses. At small songwriter rounds, Julia tends to remain laid back and share small jokes, while she becomes larger than life on a theater stage through movement, dancing, joking and laughing as she performs. Songs that show Julia's vocal range and attitude are "Like We Never Loved At All" by Faith Hill, "No Cure for Crazy" by Kellie Pickler and "I Told You So," by Carrie Underwood. She also likes to sing songs such as Kacey Musgraves "Cup of Tea" and Miranda Lambert's "All Kinds of Kinds," with its message to be true to your self. The number one person she aspires to open for is Carrie Underwood, and Taylor Swift and Keith Urban would be super fun, too.
With plans for a fall release, Julia is completing a five original song debut EP. She wrote three of the songs herself and co-wrote the other two. As she pursues a music career, Julia feels the most important thing she has learned is to always keep in mind not to sweat the small stuff. If she makes a mistake, she needs to learn from it and move on. Her favorite quote right now is something she saw on Tumblr that says, "Toss your hair in a bun, drink some coffee, put on some gangsta rap, and handle it." That's what Julia plans to do in this business, even if the day before was not the best day.
"If I can't find a single good thing after a bad day, I say, 'Fine, today made me a stronger person.' I've learned that everything is so much better when you have faith in yourself."