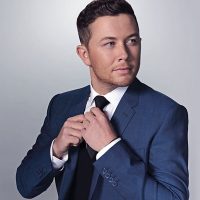 You might know him as the guy who won Season 10 of American Idol… But he's been pretty busy since.
This latest tune was Co-written by Scotty, the song is a reflective journey through life, ending with a plea from McCreery for "five more minutes" with his grandfather.
The song earns McCreery a standing ovation every night he performs it in concert
In fact… a live performance of the song on the Grand Old Opry generated millions of YOUTUBE views and won A fan-voted Opry Moment of the Year AWARD for 2016, without the song ever having been released in any way
The ACM, BMI and CMT Award winner has sold nearly 3 million albums, earned 3 Platinum singles, and made history as the first country music artist to debut their first album at No.1 on the Billboard top 200 chart.
He'll be playing the Boone County Fair on August 12th in Belvidere, IL.