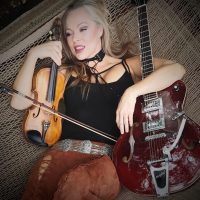 Based in Texas, Rachel is a songwriter, musician and entertainer with a "never give up attitude" and drive so infectious, she is hard to deny. Mix up some Southern Rock, Soul, Country & Blues with a killer fiddle and you have Rachel's signature sound!
She's had the privilege of sharing the stage with a variety of artists such as ZZ Top, George Thorogood, Kentucky Headhunters, Willie Nelson, Shooter Jennings, Merle Haggard, Joe Diffie, and the list goes on…
Rachel Stacy's new single, "Boomerang", is an up-tempo country rocker about a former love interest who 'keeps coming back' no matter how hard she tries to send him away!
Here the song here