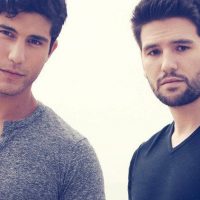 We're no strangers to Dan & Shay here at WJVL.  You've heard their hits 19 You & Me, How Not To, Show You Off, From the Ground Up, and more…
Off their sophomore album Obsessed, the best part about it is that Dan & Shay let their fans decide via social media, which song would be their next single to hit radio… and Road Trippin is what they picked.
And it's all about summer fun… The video sums up the song perfectly… it's full of shots of the duo singing on the beach, laughing with their friends and driving on open roads — basically, having a carefree time and enjoying the ride just as much as, if not more than, the destination.
They put on a great show at Country Thunder a few weeks ago and their national tour continues throughout the summer before they head across the Atlantic for the European leg of the tour.