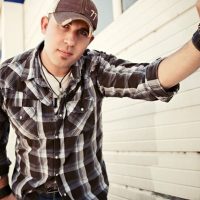 It's easy to say you "love" something, but it's the route in which that emotion comes from that means the most. For singer/songwriter Keith Walker, words cannot describe how deeply the relationship between emotion and music resonates with him. Keith's passion for country music extends far beyond crafting lyrics and melodies. It seems odd coming from a guy raised in a picture perfect beach town at  the end of the LAX runway, yet the road in which he got here makes perfect sense.
 The sounds of Haggard, Yoakum, Gary Allan and Garth Brooks had always resonated through the walls of Keith's California home, but it wasn't until his brother showed him the true power of country music that he realized his calling in life.  Keith watched as his brother coped with the loss of his high school sweetheart after a horrific accident by singing along to the song "Don't Take The Girl" by Tim McGraw.
From that point on, his radio never left the country dial. With every song he heard, he knew more and  more that this was what he was supposed to do with his life.
Immediately after high school, Keith was pursuing an opera scholarship by day and playing country music locally in clubs at night. After a roll over crash in his pickup truck on a California freeway where only he and his guitar survived, Keith realized that Nashville was waiting for him.
After moving to Nashville, Keith attended Middle Tennessee State University while pursuing his dream in the Honky-Tonks on Broadway at night. He began meeting and writing with some of Nashville's best songwriters, developing a sound that he could call his own. Keith writes lyrics that resonate deeper than a few lines on a page because of his commitment to stay true to himself.
Keith's matchless honesty and emotion runs throughout his catalog and sits at the forefront of his most  recent EP "Chaser". From this release, Keith pushed his first debut single to radio, "Honky-Tonk Shake", and has already landed in the top 30 on the MusicRow Chart.
 Keith is excited about sharing his wholehearted, down-to-earth passion for country music on the road in 2016. He has teamed up with Richey Promotions to push a new radio single in the spring and will be releasing a new EP in mid-spring to follow it up. With all that and a tour scheduled for this summer, the future is looking very bright for Keith and his music.