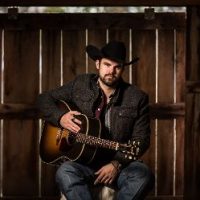 There's no mistaking Denny Strickland and his music.
In recent years, Denny has emerged as a unique voice within the country music genre. He has cultivated a style that celebrates honesty and complex emotion, rooting all of his music in personal experiences and memories both good and bad. Fusing his Arkansas country roots with a deep love for West Coast culture and aesthetic, Denny has found a way to create music that simultaneously feels like a throwback to the male country singers of the past and an examination of modern culture and romantic expression.
The more you listen, the more distinctive his work becomes. Qualities that seldom connect with today's mainstream country, intensity and urgency, are the bedrock of his creative expression. Whether in his writing or performance, Denny makes his passion clear.
"You know, I get emotional when I sing. I wear my feelings on my chest. I probably get that from my mother, just as I learned about humility from my father. I think of myself as a happy medium between the two of them."
Beginning at the age of 5, he traveled with his parents as they presented their show horses at events around the country. Eventually he took to riding himself, and became a nationally recognized champion. As a result, long before he first wrote a song or picked up an instrument, Denny knew how it felt like to be under the spotlight.
Shortly after beginning his studies at Arkansas State University, he discovered an immense love for music. With the same veracity that made him a champion rider, he taught himself to play the guitar and write songs. Before long he was doing solo gigs at local venues, including a weekly spot at the Hollywood Cafe in nearby Tunica, Mississippi.
While attending a horse show, he felt his dad nudge him. "He pointed out Marshall Grant, who was Johnny Cash's bass player and also an accomplished horseman. Dad told me to go and give him my demo. Marshall listened to what I had and told me that it absolutely knocked him out. He called his wife over to listen, too."
This led to a close friendship, as Grant coached Denny on the music business, and they performed a number of times together. He came to develop relationships with several country music giants through Grant, including Rosanne Cash, Kris Kristofferson and the Statler Brothers. Still, by the time Grant passed away in 2011, Denny had decided it was time to try his luck in Nashville.
Through a combination of the lessons his mentors passed down and his own unique experiences, Denny Strickland now emerges as a rare combination of classic tradition, new-school techniques, and aching honesty. He's learned to make music that comes from somewhere deep in his gut, and he commits it to song with raw, yearning desire.
"If you love it, you love it," he shrugs. "If you hate it, you hate it. But I'm still exploring. All I can tell you is that, while I don't know where I'll be down the road, I do know that everything I write and record will be truly me."