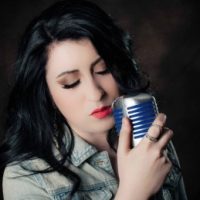 In July 2014, when Mallory Johnson stepped on stage at a small local pub in Newfoundland, she had no idea that the realization of her dream had been set into motion. Fresh off of winning a provincial competition to find Newfoundland's "Next Country Star", Mallory signed a management and production deal with multi platinum artist, Sammy Kershaw, and was off to Nashville and Muscle Shoals to record for her debut solo album.
Born in Yellowknife, North West Territories, but raised in Conception Bay South, Newfoundland and Labrador, Mallory has aspired to be a musician her entire life. This is no surprise since she comes from a very musical family. Her mother, Loretta Johnson, recorded multiple records and toured singing country music. Her aunts and uncles hosted kitchen parties where everyone grabbed an instrument and played along to jigs and reels.
Mallory's Scottish background definitely influenced the music she performed in her earlier teen years. When she was 11, her family formed a Celtic band called "The Cormiers" which included Mallory, her mother Loretta Johnson, her uncle Gordon Cormier, and her cousin Randall Cormier. As a group, they recorded 4 albums, received an ECMA nomination, won 6 MusicNL awards, and toured Canada, the US, and Scotland. The Cormiers gave her the incredible opportunity to learn about the industry and get a taste of what she hoped would be a long and successful career.
The stage became her second home. Apart from the band, Mallory was a familiar face in the local musical theatre scene playing roles like "Frenchy" in Grease, "Amber" in Hairspray, and "Heidi" in [title of show] among others. As a trained vocalist, pianist, and dancer, Mallory combined her performance experience and her Undergraduate degree in Primary/Elementary Education from Memorial University of Newfoundland, to teach young performers at local music and dance institutes for about 5 years.
Despite the impressive history in traditional music and musical theatre, Mallory still wasn't doing what she really loved—country music. She was raised listening to Dolly, Loretta, Merle, George, and of course Canadian beauty, Shania. "Codroy Valley, NL, used to host an annual Strawberry Jamboree in the field by my aunt and uncle's house. I remember it being past my bedtime, but I'd stay up late to watch my mom sing 'Coat of Many Colors' and 'Coal Miner's Daughter' through my window," Johnson says. "Country music will always have a special place in my heart. I've always been drawn to singer/songwriters who are honest and fearless. Artists like Dolly Parton, Loretta Lynn, Kacey Musgraves, and The Dixie Chicks epitomize that, which is why I love their music."
It didn't take long for Mallory to decide that she wanted to do country music. She sought out any opportunities to play, network, and promote herself as a solo country artist. "I was scrolling through Facebook one afternoon and came across an advertisement for a provincial search for 'The Next Country Star'." After multiple rounds, Mallory won the title. One of the event organizers had a connection with Country Legend, Sammy Kershaw, and they decided to reach out to see if he was interested in producing a Canadian artist. He browsed some of her youtube videos and without hesitation, mailed out a contract. "The girl can sing," says Kershaw in an interview with Nashville Country Club. "Her pitch is so good, she has country soul, her phrasing is so good, the way she breathes in the song is so good, it's unbelievable that this girl has been sitting out there." 
Soon enough, Mallory was on her way to Nashville and Muscle Shoals to record her debut album with top session players and engineers. While in the music capitol of the world, she was in the finest of company and got to pick the brains of people she admires in the industry; Billy Holland, Lonnie Wilson, Dave Pomeroy, Kelly Back, Joey Turner, Billy Lawson, Peanutt Montgomery, Charlene Montgomery, B James Lowry, and Buddy Hyatt. "I cried many happy tears during my sessions and in my hotel. I felt privileged to meet them and soak up their stories and advice."
On December 4th, 2015, Mallory released her debut single, "Tupelo" to country radio and download/streaming sites. This single is the first off of her debut album produced by Kershaw. Written by renowned Nashville hit makers – Gordie Sampson, Hillary Lindsey, and Steve McEwan, "Tupelo" is a catchy summer love song and a great road trip jam. "It's fun, flirty, and has a really cool groove. It was the first song Sam sent to me and I fell in love with it right away," Johnson says.
The single created quite the buzz on the first day of it's release, skyrocketing to #6 on the Canadian Country iTunes Top Songs List and remaining in the top 50 for five days. The music video for "Tupelo" was also aired on GAC, and featured on Roughstock.com and CMT.com.
Since her debut release, Mallory has been busy promoting and performing her music. She completed her first US radio tour in 2016, was a featured songwriter on "Four Chords and the Truth" in Toronto, performed for the American Ambassador, and has shared the stage with artists like Alan Doyle, Dean Brody, and Rascal Flatts. Mallory was also recently named the 2017 CCMA Spotlight Performance Contest Winner and will be showcasing during PotashCorp Country Music Week in Saskatoon this fall.