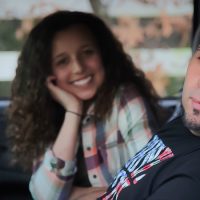 Texas-born Kris Jones became an internet phenomenon when his soulful cover of George Jones' "Tennessee Whiskey" went viral in January 2017. With a voice as smooth as the song's title, the talented dad gained an impressive social media following and landed appearances on radio and television shows including Emmy Award winning The Ellen Show.
The youngest of five kids, he always had an audience and knew early on that he wanted to sing after hearing his sisters perform at their local church. At age 10, he was finally allowed to join the church choir after his mother recognized his talent.
Influenced by the sounds of George Jones, Alan Jackson, Garth Brooks, and Vince Gill, Jones shared his voice at every opportunity by competing in talent shows and karaoke contests. His karaoke skills not only impressed contest judges, but won the heart of the woman who would become his wife.
When he married, Kris chose to put his music dreams on hold to raise a family in Alvarado, Texas. Jones' humility and "family first" motto earned him the respect of his Texas community, a community that rallied when his family endured a trial that would shake them to the core.
In 2012, Jones' son Traelon, then 13, suffered burns to more than one-third of his body after a gas can exploded while he was lighting a fire in the family's back yard. An avid athlete, Traelon was told he would never fully recover from his injuries. But, with his family's help and an iron will, the teen not only overcame his physical challenges, but became a star athlete.
Now, with Traelon as his biggest fan, Kris Jones is finally seeing his life-long dream come true.
To date, more than 50 million people have seen Kris Jones' impressive cover of "Tennessee Whiskey," and the number continues to grow. Kris Jones' working man image coupled with his humility and undeniable talent has endeared him to music fans of all genres and generations.
Here's the video that started it all: