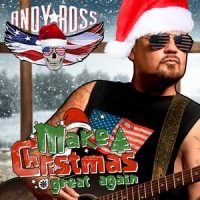 Andy Ross has hosted his own television show over the last 12 years, first as Maximum Archeryand later as American Rebel. His show has aired on the Outdoor Channel, Sportsman Channel, and the Pursuit Channel.
As a country recording artist, he has released three albums and his most recent single, "Playing in the Mud," received airplay on more than 180 stations nationally. The song was featured as the theme song for the 2017 GNCC off-road racing series.
Andy appeared on the History Channel's hit show Counting Cars. Danny "the Count" Koker was inspired to build the 2nd Amendment Muscle Car for Andy after hearing Andy's song "Cold Dead Hand." The episode entitled "Rocked and Loaded" first aired February 2014 and continues to re-air often.
Andy has founded a publicly traded company called American Rebel – America's Patriotic Brand. American Rebel offers concealed carry products including backpacks, jackets, purses and handbags, briefcases, and computer bags.