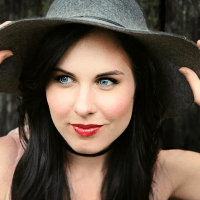 In a society full of entertainers taking to social media with a "look at me" attitude,  A.C. Jones is finding a great deal of success by expressing a genuine love and concern for her fans.  Whether she is performing solo in Nashville or at New York City's Carnegie Hall, or with her band on stage opening for acts such as Molly Hatchet or The Kentucky Headhunters,  A.C. Jones has always maintained that she is in a special position to use music to touch lives.
"I've always looked at the music as a way to serve our fans and not be served by them," explains A.C..  "I've always wanted to develop a sense of family that goes beyond music and the stage by serving our communities and the people in it."
Like many artists, A.C. had that one moment that defined the direction of what kind of artist and entertainer she would become.  For her, that moment came after the band opened for country music legacy artist, Marty Stuart.  She told the audience from the stage that the band would be available to meet with fans at its merchandise booth.  What happened next took the Canfield, Ohio-native by surprise.
"I walked to the tent expecting to see only a few people waiting," she recollects.  "There ended up being a line of people that went as far back as I was able to see.  And it gave me an amazing feeling, not because of any star complex, but more so because I was given the opportunity to talk to all of these wonderful people.  The sheer amount of human connection was amazing."