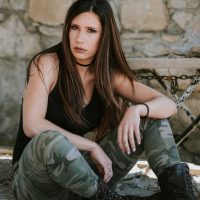 Jessie G hails from the small coastal town of Brookings, Oregon; her heritage spans across four generations of commercial fishermen and Jessie is no exception. The oldest of three, Jessie grew up in a tightly knit, labor intensive, feast or famine community where the women work right alongside the men.
As a youngster, Jessie spent much of her childhood tagging alongside her father on the docks or aboard the hand-built family boat (searching for Dungeness crab and albacore tuna) and selling their catch at the market. Fishing wasn't just to pay the bills; fishing was a way of life and Jessie's early means to support her true passion—to become a performing artist.
"
I was able to support my dream with the money I earned on the docks. I would sell fish at the market and use the money to travel to compete in talent contests at local and state fairs. In high school, I started my first rock band and quickly learned what it was like to be paid to play!
"
Her open eyes, love of music and determination to succeed earned Jessie a scholarship to attend Linfield College in Oregon where she graduated with a Bachelors Degree in both Political Science and The Fine Arts.
"I'm a music lover; my musical background is diverse… but I was drawn to the country music format early on. I fell in love with the depth of the story lines and music composition.  There's truth behind the lyrics and the format is representative of the morals, integrity and character that I was raised on."
In the summer of 2013, Jessie entered a "Battle Of The Bands" contest where she won the opening slot to perform before Grammy award winning country music artist Gretchen Wilson.
"I heard her voice from my bus and I knew she was something special," Gretchen shared.
It was after the once-in-a-lifetime chance that the young, aspiring singer and hit-recording artist "clicked" naturally to form a magical working relationship and kinship. The newfound friendship later moved Jessie to make the bold decision to follow her dreams in Music City.
"

I've always had a love and respect for Gretchen. Her spunk and tenacity reminded me of the women in my family. I admire her for being one of the first women to sing with the same sentiment, and about the same stories, that men sing about.  She's brave and has no boundaries that confine her.

"
Jessie left the sea for the south in Fall 2014 to begin a journey that every young, hungry singer/songwriter embarks upon. She emerged herself into writing (teaming with some of Nashville's best) and she spent countless hours in the studio to trademark her sound.
Gretchen explains, "I've been making records and traveling the world for more than 10 years. I've met and seen some extraordinarily talented artists, but none have made the impression that Jessie has. Jessie G means business when it comes to her music and we should welcome her to the music business!"
Gretchen has since signed Jessie to Redneck Records and the two have been hard at work not only on her studio album, but on their upcoming summer tour where Jessie will be featured during Gretchen's performance. Jessie G is set to release new music in the spring of 2018. Her 1st single on Redneck Records entitled "ARMY RANGER" will be available on May 11th.
As Jessie tells it, "The fishing industry is closely related to the music industry; working on a fishing boat (just like the music industry) toughens you up. You can't be sensitive or expect a big payday; you have to go out there and work hard. The harder you work, the more likely it is for a greater pay off."