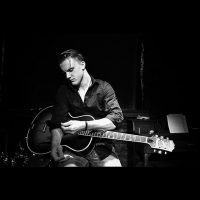 Jackson Dean is a seventeen year old singer/song writer musician from Odenton, Maryland.  He is the youngest of four siblings (all musical, in one way or another).  He grew up listening to all genre's of music but country music is his love.  Jackson performed the lead roles in a couple of plays in middle school where his vocal talent was realized.  About a year later, with the support of his family, he started to play open mic nights and after the first one he was hooked.  Playing at open mic nights has lead to other gigs and now he is performing at venues all over the state. Because of his strong passion for music, his family built a venue right on their property where other local talent come to perform.
Over Spring Break 2016, he went to Nashville to check things out and ended up playing a couple of open mic nights and recorded a song at the Ryman Auditorium.  He stood on the stage at the Grand Ole Opry and vowed to play there one day.
​In 2017 Jackson met award winning Nashville music producer Frank Green and started a serious journey of writing and recording his music as well as developing a great friendship. In Jackson's words "Working with Frank Green is more than music. It's an education most don't get. It's always nice working with another workaholic." Green echo's,  "It's great working with a talented and driven young artist like Jackson Dean".
​When he is not playing guitar or writing songs, Jackson plays football for his high school, loves to four wheel in the mountains and also bow hunts.
"I hope you enjoy my music…it definitely comes from my heart." – JD"