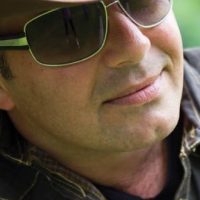 Country traditionalist Ricky Cook was born and raised in tiny Oakdale, Tenn., atop the Cumberland Plateau in East Tennessee. Influenced by, among others, Conway Twitty, George Strait, Dolly Parton, and its namesake, Loretta Lynn, his "Thanks a Lot, Loretta" is rooted in traditional country but soars into the mainstream airspace.
Successfully working for years in Kentucky, making his mark training American Saddlebred horses, Cook's passion for honest, straightforward country music was fueled by striking a friendship with musician-producer J.P. Pennington, of the legendary pop-country band Exile.
Recorded in Nashville, Thanks a Lot, Loretta, like the best of modern country music, covers everything from tongue-in-cheek honky-tonk to poignant ballads, reflecting rural life, romantic entanglements and playful lyricism, all viewed through a truthful lens. The album recorded in Nashville, TN, "Thanks A Lot, Loretta" marks Cook's recording debut. After breaking into the country charts with his debut single, Ricky's second single "It's All in the Kiss" is poised to be riding high in the charts just as Valentines Day arrives. Give this song a listen because there is great wisdom shared for all those lovers out there trying to figure this thing out. You know . . . this thing called 'love'.