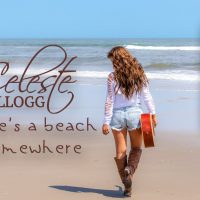 Celeste Kellogg ushers in thoughts of summer sun with her mesmerizing new single, "There'a a Beach Somewhere." Co-written by Kellogg and Aaron Goodvin (Platinum-selling Reviver / Warner Canada recording artist), the release showcases the young artist's expressive vocals and undeniable charisma.  "There's a Beach Somewhere" follows her national debut, "Country Swagger," which charted on the Music Row CountryBreakout Chart and found receptive radio airplay on more than 100 country stations in 39 states.
After meeting Aaron Goodvin at a performance in Huntingdon, Tenn., the two wrote together soon after. Kellogg recalls, "Aaron asked what I wanted to write about and I said, 'I want to write a beach song. Ya know, a song that just puts you on a beach somewhere.' He immediately responded, 'I think that's our title!' And 'There's a Beach Somewhere' was born!" Goodvin went on to co-produce the track along with Sal Oliveri (Chris Stapleton, Jimmie Allen, Pink).
Already a veteran live performer, Celeste Kellogg was opening for major artists at the age of 12 as a member of the Radio Disney Group. She has more recently opened shows for Scotty McCreary, Brett Eldredge, Eric Paslay, and many others as a solo artist.
Celeste Kellogg's successful radio tour last fall made a big impact on dozens of programmers who had the opportunity to meet her for the first time. Look for more radio visits this spring and summer in support of "There's a Beach Somewhere."