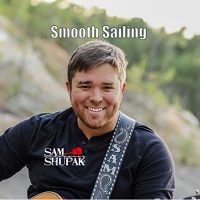 Sam Shupak brings the feel-good, sing-along anthem of the summer with his new single, "Smooth Sailing." The release, produced by Davis Branch and Spence Peppard, is from a new four-song EP, coming soon.
Co-writing "Smooth Sailing" with three other Nashville writers, Shupak set out to capture a laid-back vibe with the summer-themed lyric: "We wanted to talk about what life's like when you have the perfect girl. She's the one, and living life with her is 'smooth sailing.'"
A native of Lufkin, Texas, Sam Shupak is poised to build on the success of his debut radio release, "Something Blue," which eclipsed the Top 40 on the Music Row chart in 2018. Known for his easy-going personality, Shupak continues to grow a loyal fan base performing 150+ dates annually in Texas and many other states. His music is powered by solid country vocals and well-crafted lyrics.
While attending Stephen F. Austin University in Nacogdoches, Texas, Sam became a regular opener for many of the acts who toured the college town.  One of these artists was Granger Smith, who upon hearing Sam perform, added him to his Yee Yee Nation Tour across the Western U.S. While touring, writing, and recording, Sam also earned his bachelor's in marketing.
Learn more about Sam HERE.