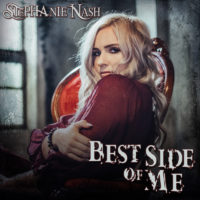 Stephanie Nash is a fourth-generation dairy farmer from Central California who's songwriting and love of music is inspired by country voices of the '90s. While contributing to duties of the family farm, now located in Tennessee, Stephanie also pursues her passion for music and uses its platform to bring visibility to the Agricultural Community and the crisis' it faces.
Her co-penned new single "Best Side of Me" is a rockin', rebellious tale of love ["trying not to burn my wings"] with intentional vocals and a sweeter-than-honey drawl. Her inspiration behind the song, produced by Kent Wells (Dolly, Reba, Brooks & Dunn), stems from growing up on dirt roads, and having a taste for the wild side. Look for it everywhere music is streamed and sold beginning March 13.
Following in her father's footsteps, a former California Dairy Industry State Representative, Stephanie is focused on raising awareness to better the state of farming. She regularly partners with Future Farmers of America (FFA) organizations around the country for appearances, performances and fundraising, and will award two student scholarships in September.
Catch her live on the road this year in Key West, various venues around Nashville, fairs and festivals, and during CMA Fest. Visit StephanieNashMusic.com for music, videos, news and to connect.