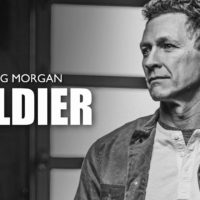 Lots of country music singers like to talk about patriotism, but Craig Morgan is one of the few contemporary artists who actually served in the United States military.  Morgan served in the U.S. Army and Reserves for almost two decades and was a 13F fire support specialist. Because of his military service, he got a late start on his music career and is one of the few Nashville artists to have his big career breakthrough after age 30.
His new album "God, Family, Country" includes five all-new songs and five favorites he previously recorded for his label, Broken Bow Recordings, between 2002 and 2008.
"Soldier" was originally release by pop artist Gavin DeGraw.