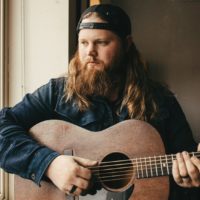 He's the most streamed artist in the history of NBC's The Voice, where he finished 2nd in 2018, Chris Kroeze is out with his latest single "Same Ole".
"Same Ole" harkens back to the country style of Kroeze's youth. "It was obvious to me that this song needed to lead out the project.  From the first time we worked our way through, it felt like a song we had been singing for years, and just felt so good." Brought to Chris by fellow Voice contestant Dave Fenley, it offers what Kroeze considers his best vocal performance on the album and highlights Kroeze's strength on the guitar with a series of tasteful solos.
BIO:
Singer and Songwriter Chris Kroeze connects with both the hearts and minds of audiences across various generations through his genuine country soul and his unique and alluring vocal delivery as he performs more than 200 shows per year. Kroeze performs all across the U.S. and internationally, including multiple tours overseas each year in support of our U.S. Armed Forces.
Early in life, struggling to focus and control an "excessive" amount of energy, Kroeze's father gave him a guitar for his sixth birthday. It was that day that his musical journey started as he seemed to connect deeply to something special, and zero his attention and energy into his music. From the first time he stepped on stage at his sixth grade talent show, he was hooked. His obsession with music took him from the stage at his Middle School talent show to audiences of tens of thousands and Kroeze's career has continued to escalate year after year. Along with headlining the majority of his shows, he has also had the privilege of performing with and also sharing the stage with music superstars like Montgomery Gentry, The Doobie Brothers, Travis Tritt, Blake Shelton, Joe Nichols, The Lost Trailers, Chris Kagle, Josh Thompson, and many others.
With overwhelming support of his home town of Barron, Wisconsin, Kroeze raised money to head to Nashville in 2014 and recorded his first single "Four Letter Words" at the famous Station West Recording Studio. That first single went on to receive heavy radio play throughout the Midwest and open numerous doors for the young musician.
A call from the producers of NBC's Emmy Award Winning television show, The Voice, catapulted Kroeze onto the National Stage this year. Kroeze's combination of vocal and guitar skills, along with his humility and small town country boy nature, captured the hearts of millions of fans from coast to coast. With guidance from his coach and mentor Blake Shelton, he continued to wow audiences week after week. "His potential is limitless" said Maroon 5's Adam Levine.
Kroeze lives in Barron, Wisconsin with his wife, daughter, son and their dog Meatloaf.