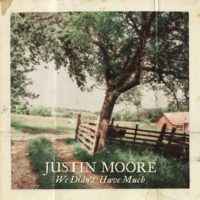 Justin Moore's new track "We Didn't Have Much" is a popular theme in 2020 – finding happiness in simplicity.
"I'm really excited to get 'We Didn't Have Much' out to country radio," shares Moore. "It sounds different than any other song we've released to radio in my career. I think it's a poignant lyric for this time in our lives also. 2020 has led my family and I to lead a more simple life than what we are accustomed to. This song speaks to the beauty in that simplicity."
Produced by Jeremy Stover and Scott Borchetta, "We Didn't Have Much" will be the first single off Moore's sixth studio album, due in 2021. The Stover, Randy Montana, and Paul DiGiovanni penned track continues Moore's trend of country traditionalism, vivid storytelling and signature Arkansas-bred twang.