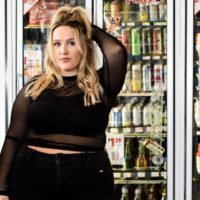 Originally from North Carolina, Block moved to Music City straight out of high school six years ago. Since then, she's been co-writing, networking, and figuring out the kind of artist she wants to be, which is someone who always stays true to herself.
"I want to be the girl that you would want to hang out with," she says. "The girl that you could go have a beer with and could keep it real."
The mid-tempo song was co-written by Block, Sarah Jones and Emily Kroll, and finds the singer going through the stage after a breakup when she's convinced she's over her ex, but all that progress unravels when she sees him out at a bar.
"It's my real life," Block says of the song. "It's my story of going through a breakup and thinking that you're over somebody and then you're not. It's a couple steps forward, a couple steps back, and just the emotional roller coaster of the whole thing."
Read more: