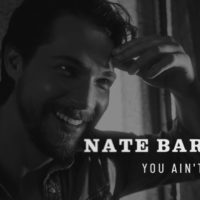 They say storytellers are at their best when they write about what they know. Quartz Hill Records newcomer Nate Barnes is no exception. The young, blue-collar power plant worker writes and sings about the work and the everyday life he lived in the small town of South Haven, Michigan. Barnes sings about God, family, hard work, heartache, love, the simple life and its simple joys. He sings about getting by – and the blood, sweat and tears that get us there. The sincerity with which he sings the stories of every day, working-class Americans is genuine – because he's one, too.
Barnes joined the workforce at just 13 years old, assisting at a youth camp. His mother had been sick during his childhood and Barnes' work ethic was heavily-influenced by his stepfather who worked double duty at both the local power plant and on a nearby blueberry farm to make ends meet. By the age of 14, Barnes was working on roofs and building houses with his uncle. By 18, Barnes had followed in his stepfather's footsteps, landing an entry level job at the power plant cleaning toilets and driving buses. He worked his way up through the ranks of manual labor – building scaffolding, concreting, shoveling and digging trenches and laying pipelines for 14 hours a day, working in heavy suits and helmets, oftentimes in 100-degree heat.
During those long hours of manual labor, music was never far from Barnes' heart. The small-town dreamer, who first began performing at church in sixth grade, was playing out every night and on weekends at "any place that would take me" despite the grueling demands of his day job.
Musically influenced by both of his grandparents, Barnes grew up singing with his family after Sunday dinners, gathered around his grandmother as she played hymns, the blues, and even Motown, on the family piano. Barnes recalls how, after those sessions, his grandfather would sit in his recliner with blues on the radio and a western on the television while he regaled his grandchildren of stories about growing up and working in the fields of Tupelo, Mississippi.
"My granddaddy was the most loving man I've ever met and also one of the best storytellers. He knew so much about music even though he never played. And the way he crafted his life stories – the life he breathed into them – I always knew that I wanted to tell stories like him. My drive to perform really came out of his storytelling," says Barnes.
When he was 21 a close friend and mentor introduced Barnes to the music and stories of Keith Whitley, George Strait, Alabama and Brooks & Dunn. As he dove deeper into the well of country music, he realized that these were the stories of his own life – the lessons he'd learned, the people he'd loved, the sorrows he'd endured – stories articulated in a way that felt like home.
"I fell in love right then with country music. I think I really 'heard' it for the first time," says Barnes. "Country music teaches you about life – about how to live, about how to be and about how to treat people. It made me feel things that I didn't want to feel and that shifted my whole deal. It changed how I lived, how I thought and my whole perspective on life."
It's the amalgamation of blues and country – both genres of the working man — that can be heard in Barnes' own music and in his vocal performances. At once humble and passionate, laced with both a textured grit and a calming smoothness, Barnes' voice personifies the aching heartache of the blues and the determined perseverance of country music.
Though he's spent years playing bars, coffee shops, small venues and festivals in and around his hometown, Barnes was discovered as a result of a chance encounter – call it a fluke – when he met chart-topping songwriter Jason Sellers while passing through Nashville on his way to vacation in Gatlinburg. A conversation led to a song and Sellers knew instantly that he'd met a true, original artist, untouched and untainted by the music industry. He also knew that he had to introduce Barnes to music industry stalwarts Benny Brown and Paul Brown with whom he was in the beginning stages of forming a new label called Quartz Hill Records, in partnership with The Orchard and Sony Music. Benny Brown, whose legacy includes breaking multi-platinum superstar Jason Aldean all while growing his company BBR Music Group into one of the largest independent country label groups in the United States, was so impressed that he signed the young artist on the spot – without ever having heard a note of recorded music.
Barnes is currently in the studio working with producers Mickey Jack Cones (Jason Aldean, Thomas Rhett) and Derek George (Dustin Lynch, Randy Houser) on his Quartz Hill Records debut. It's a dream-come-true that isn't lost on Barnes.
"The only thing that matters is going after what's in my heart, working hard and never giving up on it, no matter what," says Barnes. "No matter how dark the days get or how far that dream seems, I'm going to keep working because that's all you can do."