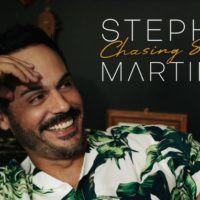 With the cold weather in full-swing, Stephen Martines reminds us of brighter days with his latest single "Chasing Summer."
Known for his roles on General Hospital, Supernatural, Vampire Diaries, Burn Notice and more, Stephen Martines shifted his focus from Hollywood to Nashville's country music scene in 2014 and hasn't looked back.
"I want this track to be a pallet cleanser from the cold," says Martines. "It's less about love and loss and more about the sweetness of nostalgia. Memories are really powerful, and this song is meant to capture that both emotionally and physically. When people hear it, I want them to feel the sunshine on their skin and hold on to the fact that while seasons change, summer always comes back around. And even if your 'Chasing Summer' moment happened in winter, this song is still for you."
A champion for Nashville's songwriting community, Stephen Martines was proud to cut "Chasing Summer," penned by Music City veterans Jennifer Denmark, Rick Tiger, and Keesy Timmer. Martines also co-produced the track alongside Chuck Bonano and Sam Maul.
"Working on the production side of things completely changes your perspective," Martines reveals. "As the artist, having a hand in what the final product actually sounds like is incredibly rewarding."
About Stephen Martines:
Stephen Martines proves that doing what others say you aren't capable of is one of life's greatest motivators; it's not about proving them wrong, it's about proving yourself right. The triple threat actor, vocalist and songwriter has built a career that transcends beyond pop culture trends and Hollywood cliches. For Stephen Martines, nothing is impossible, and everyday brings a new opportunity to transform a dream into reality. "There are moments in life where a dream you've been chasing becomes tangible," says Martines, "You're not just reaching a goal, you're actually holding your wildest imagination in the palm of your hand. When I look back on my career, I know I'll cherish those memories forever, but I don't want it to end there. The milestones are epic, but in my opinion, the journey is half the fun. I never want to stop climbing." After venturing to Los Angeles in 1998, Stephen Martines was catapulted into the public eye with iconic roles on General Hospital, Monarch Cove, and The Guiding Light. This success spanned to primetime TV, allowing Martinesto clinch roles on Supernatural, The Closer, Vampire Diaries, and Burn Notice, among others. While Stephen Martines has not and will never abandon his love for acting, he reached a point where he felt compelled to embrace another dream— country music. Relocating from California to Nashville, Martines dove headfirst into Music City's songwriting community. Since then, Stephen Martines has found his home within 40West Records, where he's celebrated several releases – including "Alright," "Sounds Like Whiskey," and his most recent single "Like Father, Like Son." Martines has the soundtrack for sunshine-filled days, but he'll also hold your umbrella when there's a little bit of rain. With a song for every season of life, Stephen Martines is ready to write the next chapter of his journey to a dream.