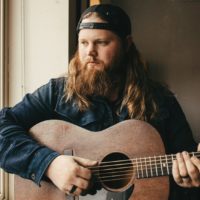 It's always nice to receive feedback from up and coming artists, thanking country radio for the support. And while it's certainly not expected, it's greatly appreciated whenever it happens. And that was again the case with an email I got from singer Chris Kroeze, best known from his 2018 appearance on NBC's The Voice where he was a part of "Team Blake" and took second place. Oh…did I forget to mention he's a Wisconsin boy? He grew up in the northern part of the state in the small town of Barron.
Here's Chris' email.
—
Hey Justin (WJVL),
I just wanted personally thank you for playing "Same Ole". It's been a blast, and completely unexpected, seeing it climb all the way up into the TOP 40, and it wouldn't have happened without you guys' support!
If there is ever an opportunity to come play the conference room for staff and listeners just say the word. I'd love to do an appreciation performance for you guys! Its just super cool as a small town guy from norther wi to be on the radio!
Chris Kroeze
Check out my new Single, Summer Song on Spotify!
—
Maybe we can get Chris to stop by the radio station or help us judge WJVidoL when things get back to normal! Thanks for reaching out Chris!
~Justin Brown