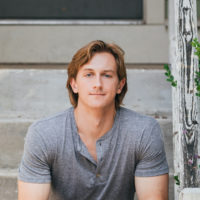 Cooper Alan was born and bred in the beautiful state of North Carolina. In addition to 4 years at UNC Chapel Hill, he also played every bar, college campus, and Honky Tonk that would allow him and his band to play. Cooper and friends soon became the "go to" band for great music and a high energy, all-night throw down performance.
After graduation, he packed up his guitar and moved to Nashville as fast as he could, where he had the incredible luck of meeting hit songwriter/producer Victoria Shaw who signed him within weeks to a publishing deal.
Most nights you can find him playing in and around Nashville writing songs with incredible co-writers like Rivers Rutherford, Gary Burr, Seth Mosley, Leslie Satcher, Will Robinson, Kent Blazy, James Dean Hicks, Lee Thomas Miller, and of course, Victoria Shaw. His hit singles include "Climate Change" and "15 to 12", available on all streaming platforms.
His newest single, "Tough Ones" is out now and available on all streaming platforms.  He posted along with the official fan-made video; "This song goes out to the couples, friends, and hard workers that show up even in the tough times. It takes love, dedication, determination, and strength when you fight for something worth fighting for."  Check it out below!