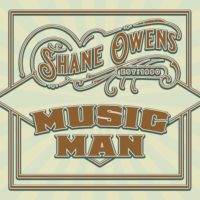 Shane Owens returns to radio with his brand new single "Music Man."  Written by Galen Griffin, Monte Holmes, Wil Jones and produced by Ace Lutz, "Music Man " delivers Owens' signature neo-traditional country style.
Owens is no stranger to radio. He has charted multiple singles of his own including "Country Never Goes Out Of Style,' "19," "All The Beer In Alabama" "Where I'm Comin' From" and most recently "Love Me To Death, ""Hard Luck Girl," and "Everybody Dies."
Although the last year and a half was strange for most of the world, Shane used this time to connect with his fans through weekly Facebook Live acoustic shows and through countless interviews. He has been busy in the recording studio and is wrapping up several songs that will be included in his upcoming EP, with the first single available in September 2021. Shane Owens continues to move forward, but he also remains rooted in the sound that launched his career, breathing life into his signature style that's at once fresh and familiar.