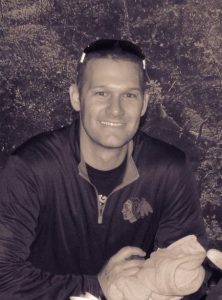 ON AIR: Weekends/Sports Fill-in
MINUTE MAN PRESS INBOX: (email Andrew)
HOMETOWN:Woodstock, IL (home of Groundhog Day & the Dick Tracy comic strip!)
HOW DID YOU GET STARTED IN RADIO? Grew up listening to Pat Hughes doing Cubs' games on WGN, along with Paul Harvey "now you know, the rest of the story". Fell in love with radio…went to Winona State in MN and studied broadcasting and was on-air locally there. After college, got a part time job (which turned into full-time) in Janesville doing Sports Radio (play by play, show hosting, production) and did some on-air work on the music side as well. I was out of radio for a few years, but found my way back here at WJVL and love being back doing my passion!
HOBBIES: Camping, fishing, volleyball, golfing, going to movies and concerts. Pretty much doing anything outside with my kids, family and friends…give me a bonfire and a beer and I'm happy!
FAVORITE COUNTRY ARTIST: Top 5 in no particular order…Zac Brown Band, Garth Brooks, Jason Aldean, Kenny Chesney, Montgomery Gentry
WHAT WOULD YOU BE DOING IF YOU WEREN'T IN RADIO? Actually, I'm "in radio" every day. In addition to helping out on air for WJVL, I'm an Account Executive for WCLO/WJVL and love helping businesses get their best message out to the market! I love finding solutions to problems for businesses and consumers! I think if you took me out of the industry entirely, I'd probably want to work for a golf course or be involved with running a campground/resort on a lake somewhere up North!
FAVORITE QUOTE: "Find a way to serve the many, as service to many leads to greatness". Also, pretty much anything that came out of Red Forman's mouth on That 70s Show…