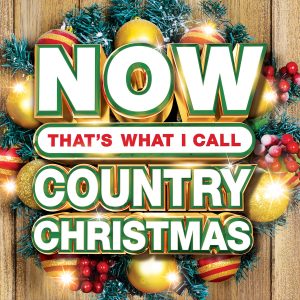 Listen to Kix with Ken in the Morning, to win your very own copy of NOW That's What I Call Country Christmas!
Featuring 20 holiday favorites performed by Country music superstars, including:  Luke Bryan, Blake Shelton, George Strait, Kenny Chesney, Little Big Town, Carrie Underwood, Alan Jackson, Rascal Flatts, and MORE!
Plus listen for your cue to call in and win Saturday, December 14th between 7am and 3pm.
Check out www.nowthatsmusic.com or www.facebook.com/nowthatscountry for more info or follow them on Twitter, Instagram and Snapchat @nowthatsmusic for music news, contests, prizes and more.
Merry Christmas and thanks for listening to All The Best Country! 99.9 WJVL.
Promotional consideration provided by Universal Music Group Nashville.
1.  Blake Shelton                    "Christmas Eve"   
2.  Mitchell Tenpenny          "Have Yourself A Merry Little Christmas"   
3.  Luke Bryan                        "O Holy Night"  
4.  Toby Keith                         "Frosty The Snowman"     
5.  Hunter Hayes                    "Merry Christmas Baby"     
6.  Little Big Town                  "Go Tell It To The Mountain" 
7.  Jake Owen                         "Mele Kaliikimaka"
8.  Kenny Chesney                 "All I Want For Christmas Is A Real Good Tan"
9.  George Strait                     "Christmas Cookies"
10.  Alan Jackson                   "Let It Be Christmas"
11.  Carrie Underwood           "What Child Is This"
12.  Rascal Flatts                    "I'll Be Home For Christmas"
13.  Chris Young                     "Christmas (Baby Please Come Home)"
14.  Sara Evans                       "Silent Night"
15.  Martina McBride              "Silver Bells"
16.  Josh Turner                      "The First Noel"
17.  Darius Rucker                  "What God Wants For Christmas"
18.  Vince Gill                          "Blue Christmas"
19.  Lauren Alaina                   "My Grown Up Christmas List"
20.  Scotty McCreery              "Let It Snow!"