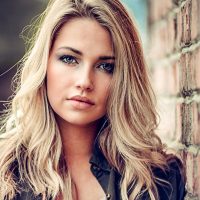 Claudia Hoyser is 22 years old and a graduate of Kent State, with a BA degree in Communication Studies and lives in Western New York.
In addition to writing and tracking over 60 songs for her debut full-length release called "Red Lights Turning Green," Claudia recently had her acting debut in the Sony/Provident feature film "Wildflower," where four of her songs are prominently highlighted in the film. Claudia also has music placements in Shadow Effect, which will release in 2017.
While Claudia's full time immersion in music maintains control of her time, she is carving in time for more feature film work in 2017.
Learn more about Claudia at https://www.claudiahoyser.com/
Hear her single "No Matter What It Costs"