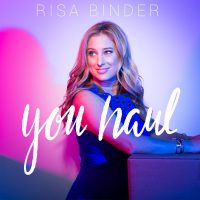 Most rising country stars aspire to climb the charts. But perpetually sunny singer-songwriter Risa Binder is committed to touching hearts with her new five-song EP Nashville.
"I'm on a mission to bring my own style of happiness to the world with these songs. I'm a person who does what her heart tells her to do, and my goal is to make music that will get people pumped to follow their dreams."
Binder is a city girl with a country heart. And she's always heard music's call. Binder started singing soon after she began to talk.
"When I was growing up I used to sing in my family room using an ear of corn as my microphone."
Although she moved to Brooklyn to pursue her career, Binder soon found herself saving all of her money from waitressing to finance trips to Nashville, where she attended songwriter nights at the legendary Bluebird Cafe and immersed herself in the city's sights and sounds.
"Nashville became my grad school."
Magical things happen to Binder for a reason. Her unflaggingly positive personality is magnetic, on and off the stage. She was one of the most popular new artists at Nashville's 2014 CMA Music Festival, signing a constant flow of autographs at the Farm Boy/Farm Girl brands booth.
After every show she hosts a "Sweet and Greet" for fans, where she chats and signs autographs and serves her guests cupcakes or other treats procured from local purveyors. Binder also hosts her "Be the Change" blog on Facebook, where she celebrates acts of kindness and public service by her fellow New Yorkers.
No wonder her legions of fans — especially mothers and daughters — consider her a role model.
Risa Binder is currently in the studio with producer Luke Wooten (Brad Paisley, Dierks Bentley, Kellie Pickler), and her single, "You Haul," hits Country Radio TODAY!
Risa's full length album will be released later this year.  Risa has opened for legends James Taylor and Ronnie Milsap, and previously released an EP, NASHVILLE, also produced by Wooten, featuring a collection of songwriters that included Chuck Jones (Patti LaBelle, Reba McEntire), Matraca Berg (Deana Carter's "Strawberry Wine"), Phil Barton, and more.
Her single, "Gotta Have You," debuted at #26 on the iTunes Country Releases chart, and quickly entered into heavy rotation on Sirius/XM Satellite Radio's "The Highway" channel. Additionally, Risa's song, "Just Like That," was nominated for an Emmy Award for "Best Song in a Daytime Drama" after its prominent feature on "General Hospital."