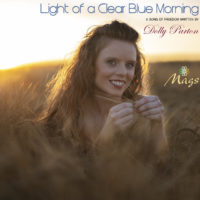 Mags' new single, "Light of a Clear Blue Morning," is a fresh take on Dolly Parton's (1977) beloved classic about hope, freedom, and the clouds finally lifting. "I have always been a major fan of Dolly and her amazing creativity," Mags says. "It was a tremendous honor for me to contribute to our recent rearrangement of her timeless song. We also took the opportunity to add in just a bit of an 'Irish twist.'"
Raised on the family farm in County Cork, Ireland, Mags is a captivating vocalist, dancer and multi-instrumentalist. She began her musical and dance training at age 4, and her primary focus eventually settled on fiddle. In 2016, Mags traveled to Nashville to realize her lifelong dream of a career in country music.
High points of the young singer-songwriter's career include performing at the White House and sharing the stage with Dolly Parton at Dollywood. Mags has toured more than 42 countries to date, performing before millions as a principal lead in her dance troupe and later as a solo artist. Mags' previous single "Emotional Honesty" scored her a Top 50 on the Music Row CountryBreakout Chart.