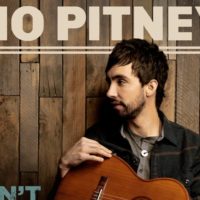 Cherry Valley, IL native Mo Pitney is out with a feel-good, sunny new tune "Ain't Bad for a Good Ol' Boy," that's all about appreciating the life you've got.
"Ain't Bad for a Good Ol' Boy" is featured on the soundtrack of the Netflix series, The Ranch and will be on his sophomore LP, Ain't Lookin' Back, which is set to be released August 14th.
Produced by Jim "Moose" Brown, the highly-anticipated follow-up to Pitney's debut speaks to the idea of rebirth—shedding your past and moving forward into a future filled with grace and forgiveness. Combining his love of traditional country music in the vein of Ray Price, Buck Owens and Roger Miller with his affinity for singer/songwriters like Randy Newman and James Taylor, Pitney puts his spin on 13 original tracks that seamlessly merge acoustic-driven country, bluegrass and soulful blues with tender, heartfelt lyrics.
"I wanted to be completely open-minded while recording this album. It was important for me to meld all my influences of the past that represent who I am as an artist today, hopefully to make one complete thought and to make something new. The end goal was to shut out all other voices, close our eyes, and create something that came from the heart," shares Pitney of the making of the new album. "I'm looking forward to taking this body of work that is completely me and sharing it with the world. I'm excited to see people's reactions."