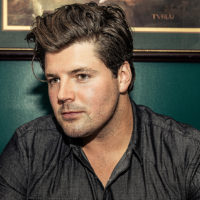 When Robert Counts released his self-titled, debut EP in October 2019, he was marking the end of a decade filled with career changes, life adjustments, and personal growth. Experiences like those helped inspire the five-track project and continue to guide Counts' masterful songwriting into new creative territories.
With his latest release, "What Do I Know," Counts goes deeper than he has before, tapping into his working-class roots to deliver a rock-forward anthem purveying the values of hard work and simple living. The tune, which he co-wrote with Jake Mitchell and HARDY, marks a stylistic pivot from the smooth grooves and lighter volumes of Robert Counts, raising the energy level while maintaining the thoughtful lyric-writing of his debut.
"I wanted to explore a little different side of what I do," Counts says of his newer music. "With 'What Do I Know,' I also wanted to shine a light on the sort of people I grew up around. They build something for themselves … they find success by working hard and showing up every day."
Counts grew up in rural Franklin, Tennessee, just 20 miles south of Nashville. He started playing guitar and singing at his church, where he led worship throughout his teens, but it wasn't until after he graduated from Lee University with a degree in Biochemistry that he committed to a career in music. After winning a songwriter's round at Puckett's Grocery & Restaurant in Downtown Franklin, he earned a cash price and the attention of an industry publisher, who offered him his first songwriting agreement. From there, he went on to write professionally on Music Row, eventually inking a management deal with famed writer-producer Jimmy Ritchey, who encouraged him to pursue a career as a performer.
"He was the one who planted that seed in my head," Counts says of shifting from songwriting to performing. "I hadn't even thought about it, but that's where it happened. Long story short, we wrote some songs together, and he introduced me to people at the label."
Through Ritchey, Counts landed a meeting with Sony Music Nashville's A&R team. After an in-office performance, he received a record deal offer on the spot. Today, the artist continues to prolifically craft new tunes, pulling fresh inspiration from his life experiences in the tradition of true country music storytelling.