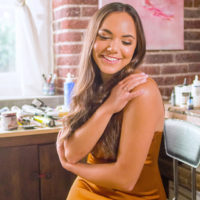 Paige King Johnson is returning to the country airwaves with her second single "Just Like You." Penned by Johnson and her co-writer, Regan Rousseau, "Just Like You" is a new take on a love song; it doesn't start out like most, and has an unexpected twist of gentleness and sentimentality that will make anyone want to fall in love while listening to it. Johnson's vulnerable and heartfelt delivery in this tune is a side that she says fans haven't seen before, but believes they will be drawn to. This release follows her debut single, "Water Down The Whiskey," which peaked at the #29 position on Music Row Country Breakout chart.
Although new to the country radio scene, Johnson is no stranger to the stage. With nearly 13 years of performing under her rhinestone belt, her resume includes opening slots for great artists such as Neal McCoy, Scotty McCreery, James Otto and more. She spent most of last year on the road between radio touring, playing shows, recording and shooting music videos. She has high hopes for getting back to that highway running lifestyle as soon as things get back to normal.
The newly 23-year-old rising star takes pride in her classic-country-loving heritage passed down from her parents. Raised on staples such as Merle, Waylon, Patsy, and Loretta, Johnson is passionate about keeping the roots of country music storytelling alive in her own music. She is well on her way with this next single!
See the official music video, directed by Pam Tillis and producer Josh Sikkema, below.