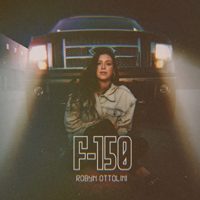 Warner Music Nashville's new rising artist Robyn Ottolini is out with "F-150." Ottoloni cowrote her standout track alongside Erik Fintelman and Mark Schroor, reaching No. 4 on Spotify's all-genre US Viral 50 chart and No. 3 on Rolling Stone's all-genre Trending 25. The Uxbridge, Ontario native uses her small-town-Canada upbringing as the creative inspiration for every witty, relatable lyric she writes.
"My ex drove an F-150 and I f'ing hate that truck," laughs Ottolini. "You might think that 'F-150' is just a truck song, but this isn't about any ol' truck. It's about trying to move on and get strong, until you see that one thing that brings you back to the pain. Nothing does that more for me than his white, Ford F-150. This song is a piece of my heart and soul. It's a true story of personal heartbreak and self-growth. I'm so happy to put this video out and share these lyrics with people. I hope people feel safe and heard when they listen, and remember to fall in love with themselves   Your f-150 might be a ram, a Jeep, or a sun fire. But whatever it is, I hope this song means something to you."
Inspired by artists like Maren Morris, Kacey Musgraves and Sam Hunt, she's already released two EPs independently, including The I'm Not Always Hilarious EP in 2020, and was a Rising Star Award nominee at the Country Music Association of Ontario Awards in 2019.