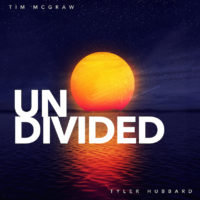 Tim McGraw and FGL's Tyler Hubbard have teamed-up for a timely new song, "Undivided."
Produced with Byron Gallimore and Corey Crowder, "Undivided" is passionately optimistic, and sees McGraw and Hubbard call on Americans to come together and heal.
McGraw teased the song last Wednesday (Jan. 6), a day that shocked the world as rioters descended on D.C. and stormed the Capitol.
"Tyler sent me this song a few months ago and from the first time I heard it….I knew it was one I wanted to be singing for a long time. We got together in the studio last month and created something real special. Hope y'all agree when you hear it!! #UNDIVIDED coming Jan. 13th," he tweeted.
Hubbard wrote the song in quarantine while battling COVID-19 last November. A song inspired from our turbulent year.  "Undivided" will be featured on the deluxe version of Tim's upcoming album, "Here on Earth", which is set to debut in the spring.