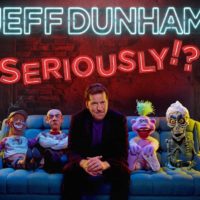 Are you going to see Jeff Dunham this Sunday? Me too! Seriously!? How could you miss it?
Here's some information we received about the show this Sunday at ABC Supply Stadium in Beloit.
Gates open at 1:30pm with the show starting at 3pm. Have a great time. See you there!
—
Hello!
Thank you so much for purchasing tickets for the Jeff Dunham Not So Serious Tour at ABC Supply Stadium, we are so excited to welcome you! On behalf of ABC Supply Stadium I wanted to take a moment to send a note with some additional information to make your arrival and experience great!
Parking

We will have our main center field parking lot available; parking will be $10 and on a first come first serve basis. Attached you will find an additional parking map that shows surrounding parking spots in the Downtown Beloit area. Should you have any questions about parking, please do not hesitate to contact us!

Digital ticketing

Friendly reminder that all tickets at ABC Supply Stadium are digital! Please make sure to have your digital tickets ready to go prior to arrival.
Visit here for more information: Digital Ticketing
If you have any questions, feel free to email us at tickets@skycarp.com or call us at 608-362-2272
Access your tickets here: My Tickets

Timing

Our gates will open at 1:30 PM, with the show starting at 3:00 PM!
Stadium Rules

The following items are prohibited from the stadium: bottles, cans, coolers, containers, fireworks, flares, pets or animals of any kind (with the exception of service animals), weapons, water guns, toy/replica weapons, squirt bottles, soap bottles, Frisbees, balloons, brooms, skateboards, roller blades or skates, beach umbrellas, beach chairs, lawn chairs, stools, or any chairs with legs.

Stadium back seats with no legs, blankets, and cushions are permitted.

Outside food and beverages are prohibited.

Entrances

We have three convenient entrances to ABC Supply Stadium

Centerfield Gate – This entrance is located right past the City of Beloit Post Office (300 Mill Street)

Right Field Gate – This entrance sits right on Shirland Avenue, near City Hall

Shirland Avenue Gate – This entrance is further down Shirland Avenue, closer to the Rock River (217 Shirland Ave)
Thank you so much, please reach out should you have any questions.
Sincerely,
Gracey McDonaldEvent Sales Manager
Physical Address:
217 Shirland Avenue, Beloit, WI 53511
Mailing Address: PO BOX 855, Beloit, WI 53512
O: 608.362.2272 x28 | C: 850.748.6933