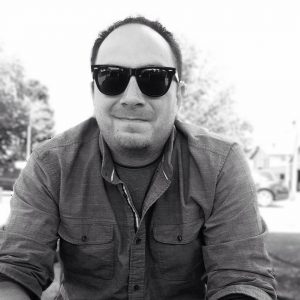 ON AIR: Weekends
MINUTEMAN PRESS INBOX (Email Matt)
FAMILY: I am married to a wonderful woman for over a decade, and have four awesome children!
HOMETOWN: Born in Milwaukee, WI and relocated to Northern Wisconsin in the 2nd grade. Moved around quite a bit during and after college, but settled down back in Southern Wisconsin.
HOW DID YOU GET STARTED IN RADIO? Applied for a part-time job at the radio station in Minocqua, WI while in high school. After a couple of weeks running the Green Bay Packers and local sports broadcasts, I was asked to take over the "drive home" airshift from 3 until 6 pm. My 8th hour study hall teacher would let me sneak out of class early, as long as she heard me on the radio that day!  After I graduated high school, I worked at the station full time, and filled in for the News Director on the network of stations when he was absent. I took a hiatus from radio broadcasting for a number of years and joined the WJVL family in August of 2016. I work full time in the transportation industry, and travel quite frequently all over the United States.
HOBBIES: I volunteer for my community's fire department. I also enjoy wrenching on my old Pontiac that I've had since I was 17! I like to restore vacuum tube radios and televisions. Most importantly I LOVE making memories with my family, whether it be at church, watching the Packers, or just having a dance party in the living room!
FAVORITE COUNTRY ARTIST: I don't have a favorite! I like pretty much all country music from Hank Williams to John Pardi! That's what I LOVE about WJVL. The style and variety of music we play is sure to please anyone!
WHAT WOULD YOU BE DOING IF YOU WEREN'T IN RADIO? When I was kid my dad said I would probably grow up to be a ditch digger… I've always thought heavy equipment was awesome! If I didn't work my day job, I'd LOVE to work in radio full time. I really enjoy the technical aspect of it.. you know – the transmitters, antennas, and wires and buttons and stuff! My goal in life is to own a drive-in movie theater and radio station! That reminds me.. I better buy a lottery ticket!